About PEEKrings Oval
Bespoke carbon fibre/PEEK chainrings cut to match the rider's torque curve. PEEKrings Ovals are handmade to order in the UK. We can use data from a Wattbike or Garmin Vector pedals to cut your bespoke ring or rings (see FAQs for details on how to extract and send us your data). PEEKrings Ovals can be fitted to standard 5-bolt 110BCD or 130BCD cranksets, but we can also make chainrings to fit non-standard cranksets including 4-bolt, 135BCD and Verve Infocranks.
Our carbon/PEEK chainrings are not for everyday use - we recommend you keep them for TTs and Sunday best only! However, we also offer a pair with the outer in carbon/PEEK and inner in aluminium, or for everyday riding, both outer and inner in 7075T6 aerospace grade aluminium. All rings are bespoke cut to match your data.
As each PEEKrings Oval is cut to order from your data, you will need to send us your data files before we purchasing. Please contact us [insert link] to send us your data and let us know what BCD and ring size(s) you would like.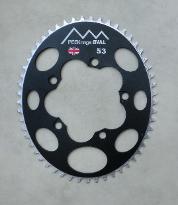 buying options AND Prices
Single bespoke carbon/PEEK outer chainring from 50T to 56T. PRICE
Pair: bespoke carbon/PEEK outer (50T - 56T) and bespoke aluminium inner (36T to 42T). PRICE
Pair: bespoke outer (50T - 56T) and bespoke inner (36T to 42T) aluminium. PRICE